Scientific writing workshops
---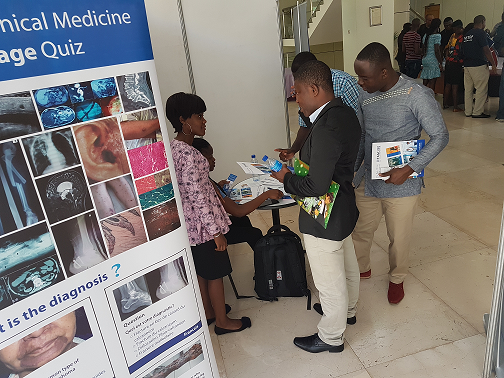 Learn to communicate science: Invite PAMJ professional team of trainers for a on site training on how to write and avoid immediate rejection.
Choose your course language: English or French
This course peeks in the mind of journals editors when assessing the "publishability" of a manuscript.
What do journal editors look at?
What are the capital sins that will surely get your manuscript rejected?
This course is based on real examples from the PAMJ editorial office and stems from close to ten years of operation and more than 13,000 manuscripts processed. The course will cover issues like how to structure a manuscript for submission to a scientific journal, appropriate data presentation, writing a good title or abstract
Course format: This training will take place through conferences, workshops and mostly through the establishment of Centers for Excellence in scientific writing, set-up throughout the continent, in collaboration with established institution involved in research (Universities, research centers, research bodies, NGOs etc...). The course will lead to a certificate co-signed by PAMJ and the hosting institution. A proposed content of the curriculum is provided below.
Past courses: Kenya, Rwanda, Nigeria, Ghana
Proposed course contents
1. Fundamentals of scientific writing
This course stems from 7 years and more than 5000 manuscripts processed by the Pan African Medical Journal and will introduce the participants to the fundamentals of scientific writing. The course intends to cover aspects related to structuring a manuscript for submission to a scientific journal, appropriate data presentation, etc... In addition, the concept of Open Access publication/journal, criteria for selecting a journal, what journal editors want and how to avoid immediate rejection are included.
2. Electronic resources and effective use of reference management software in scientific writing
This topic will allow participants to navigate the ocean of information. Participants will learn how to use current electronic resources to find biomedical information when preparing, conducting and writing-up their research papers. The use of search engines (Google) and other biomedical electronic portals like PUBMED will be covered. The course also include hands-on training on the use of a free reference management software (Zotero®, Mendeley®)
3. Introduction to publication ethics
This section will cover basic aspects of publication ethics using COPE (Committee on Publication Ethicshttp://publicationethics.org/) material: plagiarism and plagiarism detection, authorship disputes/issues, duplicated publications, dealing with editors, disputes. Concepts of ethics in research can be introduced here: inform concern, privacy protection, vulnerable groups, ethical clearance and institutional review boards etc... with recent or past case studies.
4. Introductory statistics and basics on how to report statistics in biomedical research
The publication of near to 1500 manuscripts in PAMJ and the review of more than 5000 more has taught us that basic statistical concepts are sometimes misunderstood by authors: the objective of this course is to fix that by providing participants with basic understanding of key statistical concepts: some examples are: types of study design: cross sectional, prospective, retrospective, notion of chance and statistical significance, simple random sampling, comparison of means and proportion, notion of risk; and other useful statistical concepts. The course will be taught using Epi Info or R, free statistical packages.
Contact sales-service@panafrican-med-journal.com to book a course.